"Your body is not a temple, it's an amusement park. Enjoy the ride."
A. Bourdain
Explore off the beaten path and enjoy a feast for the eyes as well your stomach! Bike in the fresh air and then visit a local holiday farm, taste homemade cheese, lemonade, olive oil, and marmalade.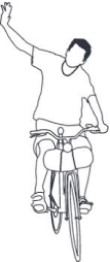 Guided Bike Tour with the assistance of qualified and expert instructors of the Italian Cycling Federation
Carbon road bike or e-bike rental
Visit to a holiday farm and tasting of typical products
Meeting place: Piazza Tasso- Sorrento
(pick-up at the accommodation available, not included in the price)
Meeting time: h 8 am - Time: 5 hours approx
The Food and Wine Bike Tour  will lead us to Sant'Agata sui due Golfi where we will arrive biking along the old mule tracks of the Sorrento Peninsula.
Along the way, we will stop in Schiazzano, a small hamlet part of Massa Lubrense territory, to get into the heart of the bike tour visiting the holiday farm "Il Turuziello".
Thanks to the hospitality of the holiday farm owners and staff, we will have the chance to witness the Mozzarella and Caciottina production steps and to taste local cured meats and, above all, the renowned Provolone del Monaco D.O.P.
We will also taste the real fresh homemade lemon juice, lemon and orange marmalade on melba toasts, and "Il Turuziello" own- produced extra virgin olive oil on homemade bread.
This food and wine bike tour will let you discover unknown and uncontaminated corners of our land, far from mass tourism, overlooking unforgettable landscapes.
The aim of this tour is to combine art, history, and nature to the pleasure of a quiet, slow and relaxed way of touring with a wandering spirit, biking immersed in the smells and colors of nature.