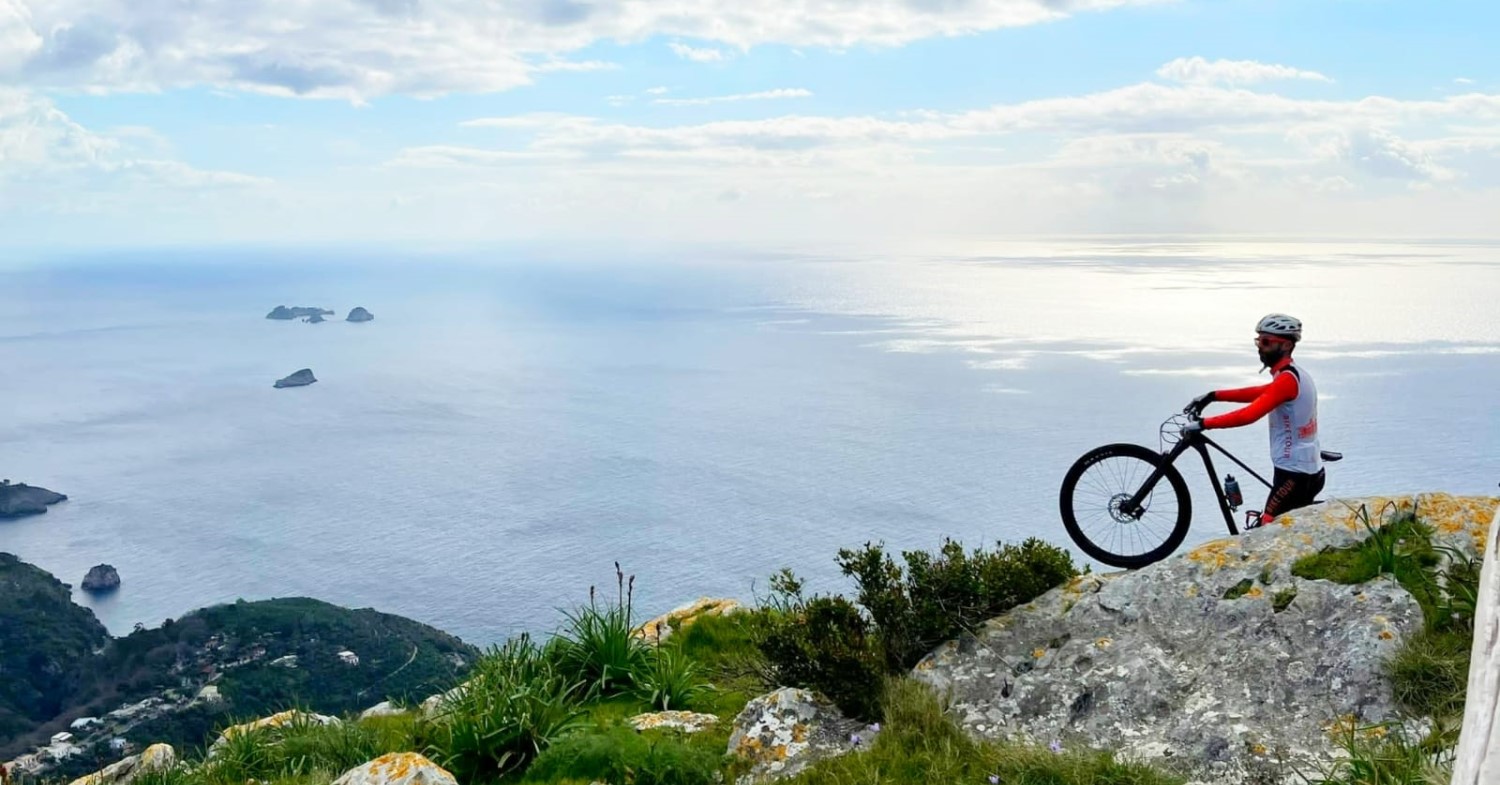 A team of cycling experts born and raised in the "Land of the Sirens" opens its own world's doors
and brings you to discover the secrets of legendary places riding a bicycle.
We offer fully-guided small group tours differentiated by technical difficulties, length and difference in altitude of the route, in order to guarantee a unique experience to our guests. Upon request, we can also organize private and/or tailor-made tours.
With us you will reach unknown and uncontaminated corners of our land, away from mass tourism, overlooking landscapes that are worth a lifetime on a journey that combines art, history, nature and food with the pleasure of slow travel.
 Explore our rental solutions to find the one that best fits with your needs!
Not only biking.... Go, explore, experience with us!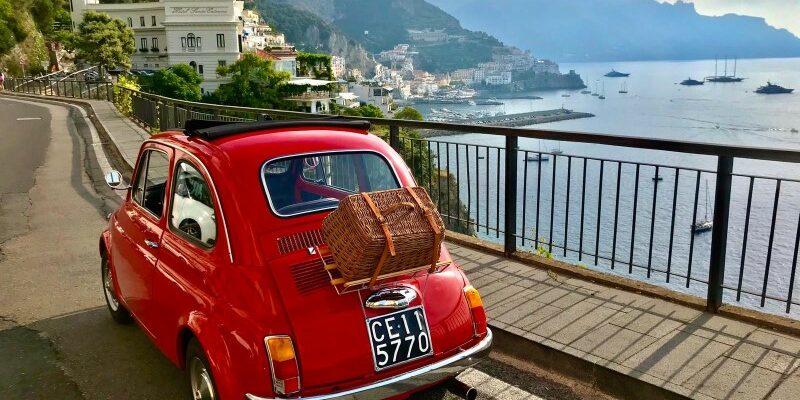 Photo Tours By Vintage Fiat 500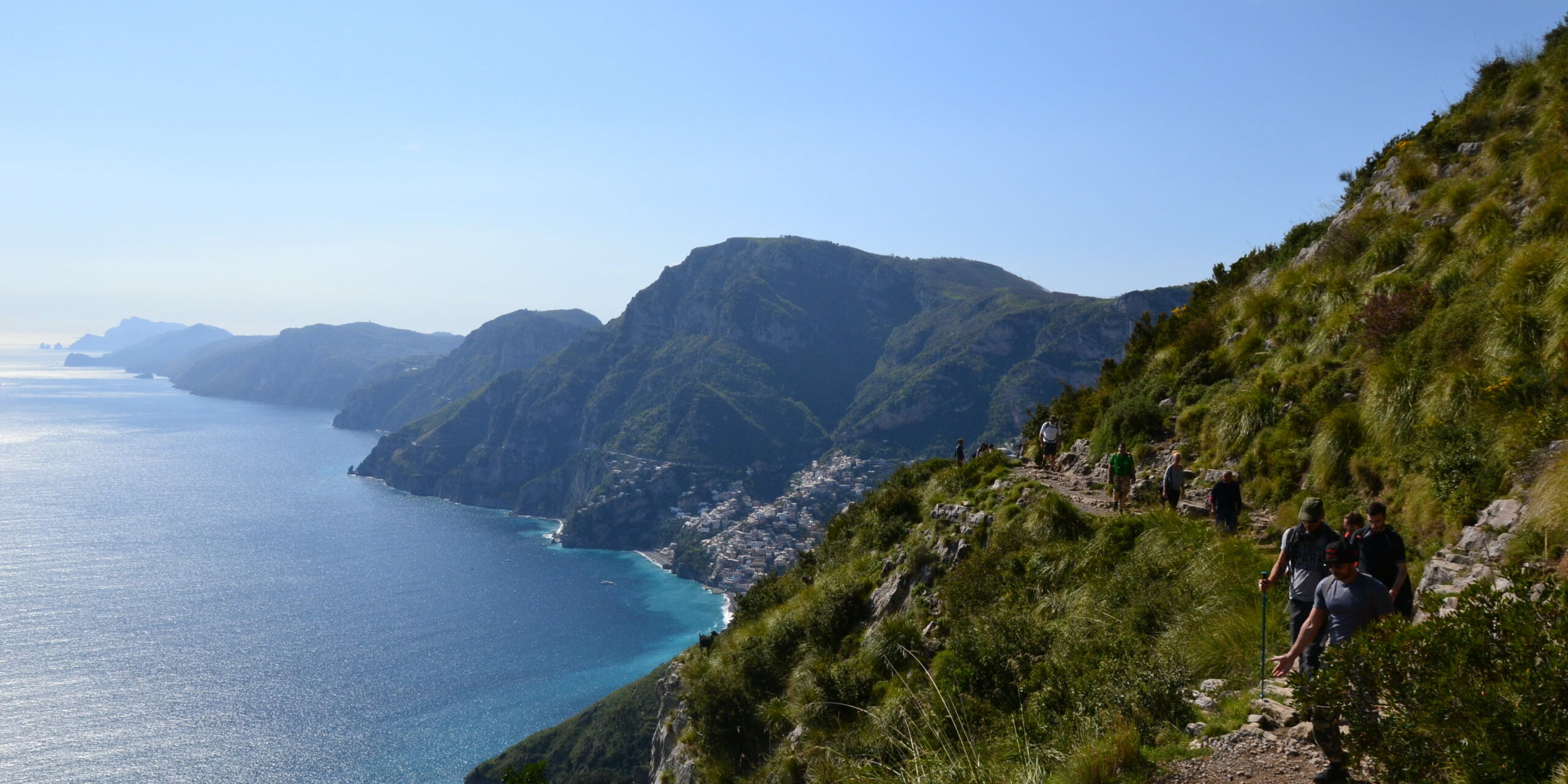 Our Customers are saying...
Sorrento E-Bike Tour – really fun!
This was a great ride! Although it was a little scary when a tour bus passed you on the street, we felt safe! Great guide.
Reta Pickering - Canada
Backroads & Limoncello Tasting: Sorrento E-bike Tour
Brilliant afternoons activity!
We were super lucky as it was only my husband and I on our tour with Pietro so we went at a pace that worked for us. So lovely cycling the hills around Sorrento and seeing the lemon groves, even stopped at a bar for a drink on the way round with the most beautiful views! Highly recommend this to anyone – the cycle really wasn't hard, and it's such a lovely way to spend an afternoon!
Linda Hawes - UK
Backroads & Limoncello Tasting: Sorrento E-bike Tour
The Best Bike Rental Sorrento Has To Offer
Pickup and drop off was simple and easy. I was given an amazing bike to ride for 2 days and I fell in love with it. Properly maintained, and quick responses with any questions I had. Highly recommended.
Donald England - USA
Carbon Road Bike Rental
Awesome cheese and e-biking on the Sorrento peninsula
Our group of five had a great experience. Pietro led us (including some e-bike newbies) through some lovely rural areas near Massa Lubrense and it was great despite some light rain. He even dealt with a flat tire and had us back on the road within minutes. The farm tour was awesome and we loved our transport from the village to the farm. The cheese demonstration was great and the food was awesome. They quickly accommodated some food restrictions that we had neglected to mention in our booking. We would do this tour again in a heartbeat. Communication was outstanding.
Linda Terrell - USA
Food & Wine Bike Tour
Amazing Experience
Luckily I was paired up with Peter who was a joy to do the tour around the Amalfi coast. I would absolutely recommend this to anyone able to do it. I was given the choice of a nice e-mountain bike or a road bike. 10/10
Jordan Thomas - UK
Amalfi Coast Bike Tour
Best way to see the Amalfi Coast
It was the highlight of our Amalfi Coast holiday with a lovely friendly tour guide Pietro We highly recommend it to everyone!!!!
Sheila Boyd - Australia
Amalfi Coast Bike Tour
Great day!!!
Great excursion! Wonderful guide. Would highly recommend it. You will use a pedal-assist e-bike and ride through the countryside to a local limoncello-producing farm where you will learn about the preparation of limoncello. Then you will sample some and some amazing marmalade!!! Then back on bikes and back to the starting point. "Peter" our guide was amazing. Definitely worth it if you have time.
Gilbert Raiskmus - CANADA
Backroads & Limoncello Tasting: Sorrento E-bike Tour
Great cycling
We hired two racing bikes. It was great to have them dropped off at our hotel. Peter was very responsive being flexible with the times. The bikes were in good working order and we enjoyed some fantastic rides around the area. Recommended.
Russell Childs - UK
Carbon Road Bike Rental
Fabulous
There were four in our party. We loved the riding, the fantastic oil tasting and the mozzarella and ricotta making were a highlight. We have even bought some equipment after our experience we were so impressed. Our guides were super charming, professionals and we loved our experience.
Alison Sandercock - Australia
Food & Wine Bike Tour
E-bike a Sorrento, esperienza consigliata
Abbiamo noleggiato le e-bike per due giorni, siamo rimasti molto soddisfatti sia per la disponibilità di Pietro e Fabio sia per l'efficienza delle bici. Lo consiglierei ai miei amici.
Giulia Capella - Italy
E-Bike Rental
Highlight of our Italy Trip!
This trip was fantastic on so many levels! From the transfer to the bike starting point in a small authentic little village, the guides could not have been nicer. We cycled with our 3 kids; the E-bikes were great and we did a wonderful 2 hour loop through lovely little villages, a lemon garden and stopped for granita and refreshments along the way. The views were spectacular. After getting back to the starting point, we were picked up by piaggo tricylces and had such a fun trip to the farm! The owners were wonderful and made everything so interesting and entertaining: we watched a cheese demonstration and tasted amazing cheeses and olive oils -and of course, wine and limocello! Our whole family loved this experience, and we highly recommend it!
SF - USA
Food & Wine Bike Tour
E bike lemon tour
A really enjoyable morning our guide was very knowledgeable and it was a fascinating experience for the whole family.
C. Masters - UK
Backroads & Limoncello Tasting: Sorrento E-bike Tour
Sorrento Holiday Bike Hire – July 2022 (Yes in that heat)
The service from the Bike Sorrento Team was excellent, they dropped the bike off the evening prior to my first ride day so I was all set for an early start and picked it up the morning after my last day to work around my day trip to Naples. The bike I was supplied with a Giant TCR was good quality and in excellent working order and came with the required peddles I chose a spare tube and tire levers. The staff contacted me via Whats App and answered all of my questions in English and were very friendly. I would certainly recommend to anyone wishing to explore the local countryside and notch up a few miles without bringing their own cycle to check out this company.
Gary Henderson - UK
Carbon Road Bike Rental
Great service and wonderful e bikes
Would wholly recommend hiring some ebikes from Enjoy bikes. We had a brilliant time on the bikes and the delivery/pick up of the bikes was efficient and enjoyable. We had a puncture during our hire and they quickly came out and gave us a replacement bike until the puncture was repaired.
Graham Forbes - UK
E-Bike Rental
Riding the Amalfi Coast
I spent a glorious morning riding with Pietri along the coastal road towards Amalfi. The route undulates with some steeper sections, including the hill on our return which was a mile at 8%. The scenery more than makes up for the complaining legs! I was given a carbon GIANT to ride which rode well. Thanks for an enjoyable ride.
Adam Gillet - UK
Amalfi Coast Bike Tour
Fun, informative afternoon
We thoroughly enjoyed this tour – my husband is a cyclist, I'm definitely not (but I am fit & sporty) – the tour was surprisingly hard work, as the e-bikes make it easier, but you're still pedalling with some force, especially up the steeper hills! Definitely recommend wearing suitable clothes & shoes for cycling on & off road (I wore shorts, with converses on my feet, so no serious sports gear needed, but not flip flops). The visit to the farm was lovely, finding out about limoncello was more interesting than I'd expected and the tasting was fab. Our guide was brilliant!
Fizz - UK
Backroads & Limoncello Tasting: Sorrento E-bike Tour
Limoncello Tour – Superb!
Superb tour, easy booking with great communication. The bikes and guide were fab! An easy route that anyone can do thanks to the power on the bike. Limoncello tour a treat too as was the stop for a Limoncello ???? Would recommend!!! Wish we booked a tour to Positano! I think that would be great too!
Katy Cook - UK
Backroads & Limoncello Tasting: Sorrento E-bike Tour
My ride to Amalfi with Pitro (Peter)
I can't say enough good things about EnjoyBikeSorrento despite the time change of the ride. They have prompt and friendly customer service..reached out to me in timely manner and were very clear with instructions. Pitro was very nice and knowledgeable of the area, kept me safe on the ride and led me through the best sites of Positano/Priano/Amalfi. Would definitely recommend them, I also enjoyed the Giant bike they provided.
Shaim Abdul Satar - USA
Amalfi Coast Bike Tour
Excellent service and communication
I rented a road bike from enjoy bike Sorrento for one day and was very pleased with the service. The price was very reasonable and included drop off and pick up of the bike at my hotel. Peter, who dropped off the bike, was in touch the night before to confirm the time and turned up the next morning on time, with my bike and picked it up when I was done with it. He even messaged me during my ride to make sure everything was going okay. Would happily use these guys again
James Scott - UK
Carbon Road Bike Rental
Great times!
The staff of enjoy bike of Sorrento was great from the beginning to the end! We rent e-bikes for a group of 8 people, they drop them at our home and did the same for the collect! The landscapes are amazing in Massa Lubrense, we had a really good time ! Thank you for everything !
Léa Voskarides - FRANCE
E-Bike Rental
The best way to discover hidden gems!
After participating in the longer Amalfi Coast tour independently, I took my family on the shorter Backroads and Limoncello Tasting. We absolutely adored the shared experience. Fabio guided us along gorgeous, lemon tree-lined back roads that we'd never discover on our own. The limoncello tasting at Il Convento was a particularly pleasant surprise; we had no idea that part of the experience would be so immersive. I highly recommend this experience for riders at every fitness level. (Mom had reservations but ultimately loved it.) Definitely opt for e-bikes
William Nutt - USA
Backroads & Limoncello Tasting: Sorrento E-bike Tour
Experience of a lifetime!
This Amalfi Coast Bike Tour was beyond the highlight of my trip to Italy; it was one of the most gratifying experiences of my life. It's the ideal way to see one of the most spectacular scenes in the world. Peter was the perfect guide—attentive, engaging and accommodating. Definitely go for the e-bike; it's like a magic carpet ride
William Nutt - USA
Amalfi Coast Bike Tour
Fantastic experience – highly recommended
We are a family of 4 with 2 children (aged 11 and 14). The experience was fantastic for our family. It was very well organised and we felt very safe. Our guide was very knowledgeable and we got to see the real Sorrento, cycling off the main road and getting to see some great views . The farm trip was great – kids loved seeing the animals and the olive oil tasting, mozzarella making and limoncello were all well worth the visit. We were out for a full day and the electric bikes certainly made things a little easier on a hot day!
Nicola - UK
Backroads & Limoncello Tasting: Sorrento E-bike Tour